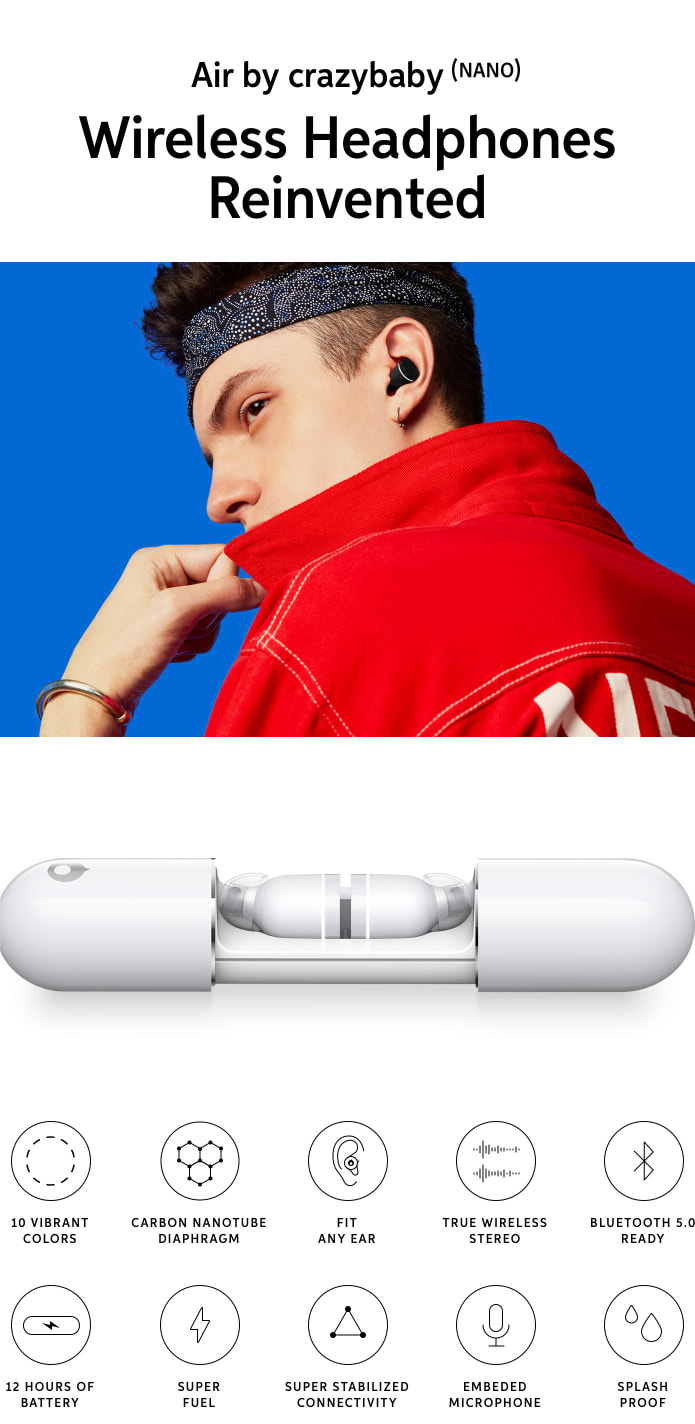 Air by crazybaby ⁽ᴺᴬᴺᴼ⁾ is the perfect set of compact, true wireless headphones that deliver flawless audio without skimping on style. With 10 vibrant colors to choose from and 12 hours of battery life (thanks to Super Fuel technology), you can experience superior acoustics with superb design. Bluetooth 5.0 ready, Air (NANO) is compatible with both iOS and Android devices.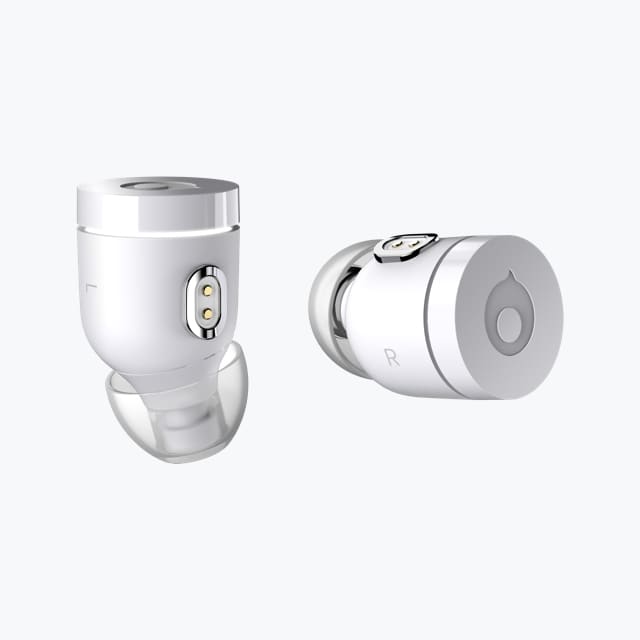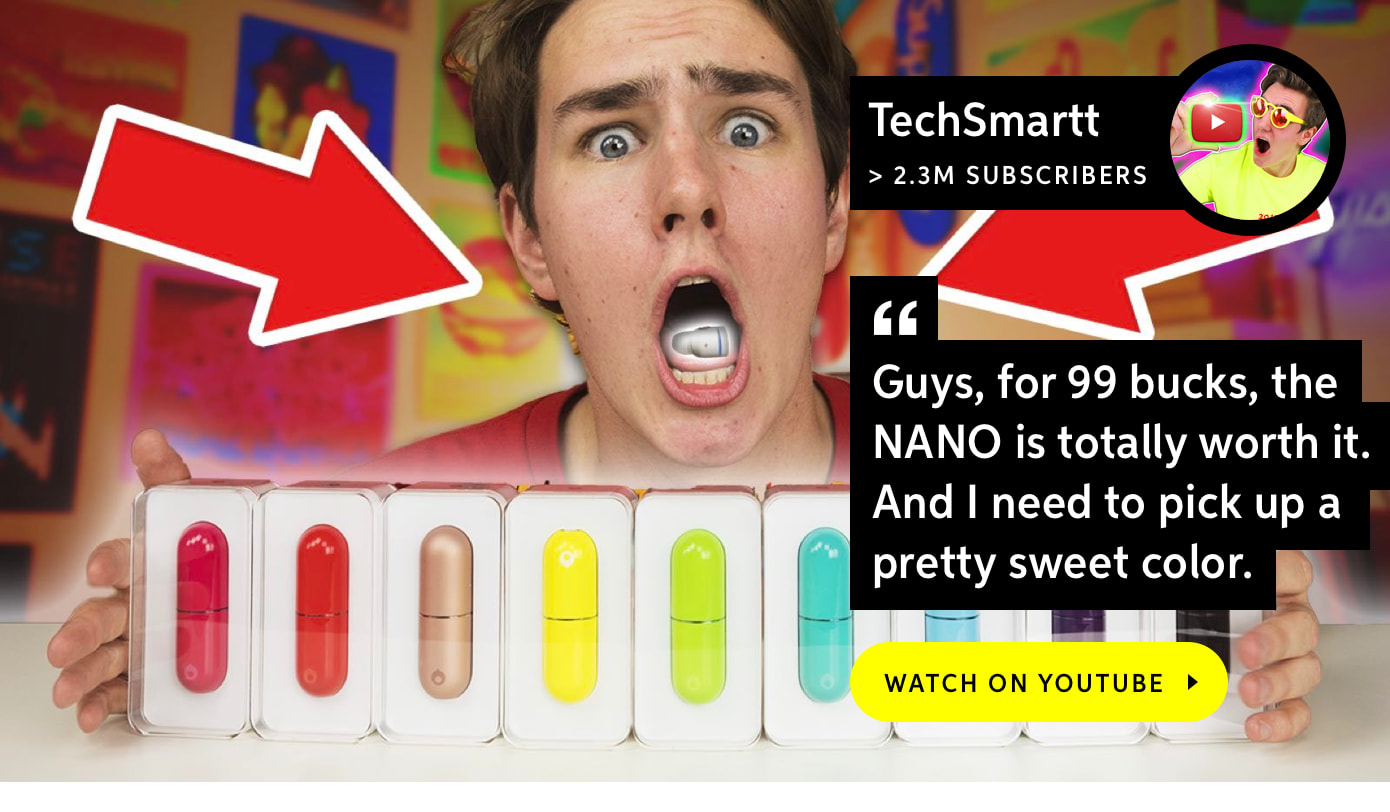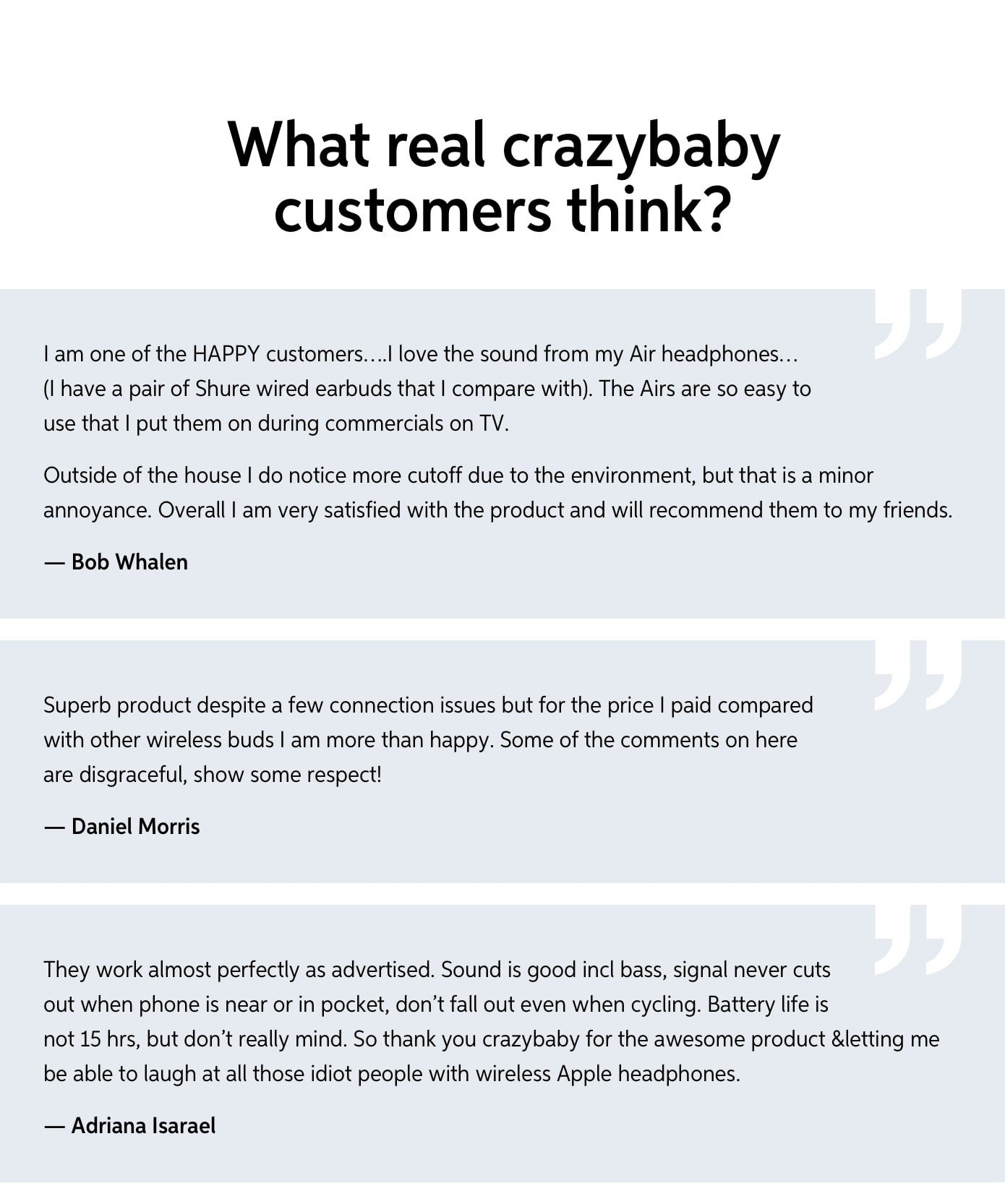 Our customers love Air by crazybaby. Their support and trust in our brand has encouraged us to continue our mission to create the most innovative and high-quality true wireless headphones.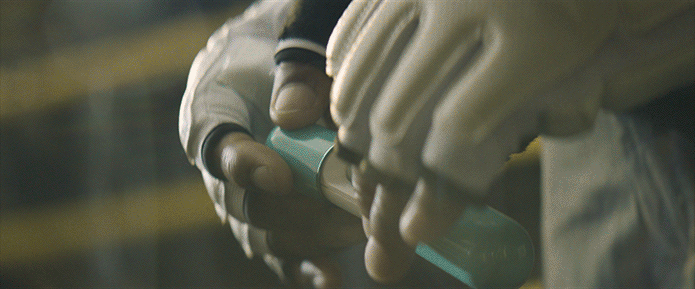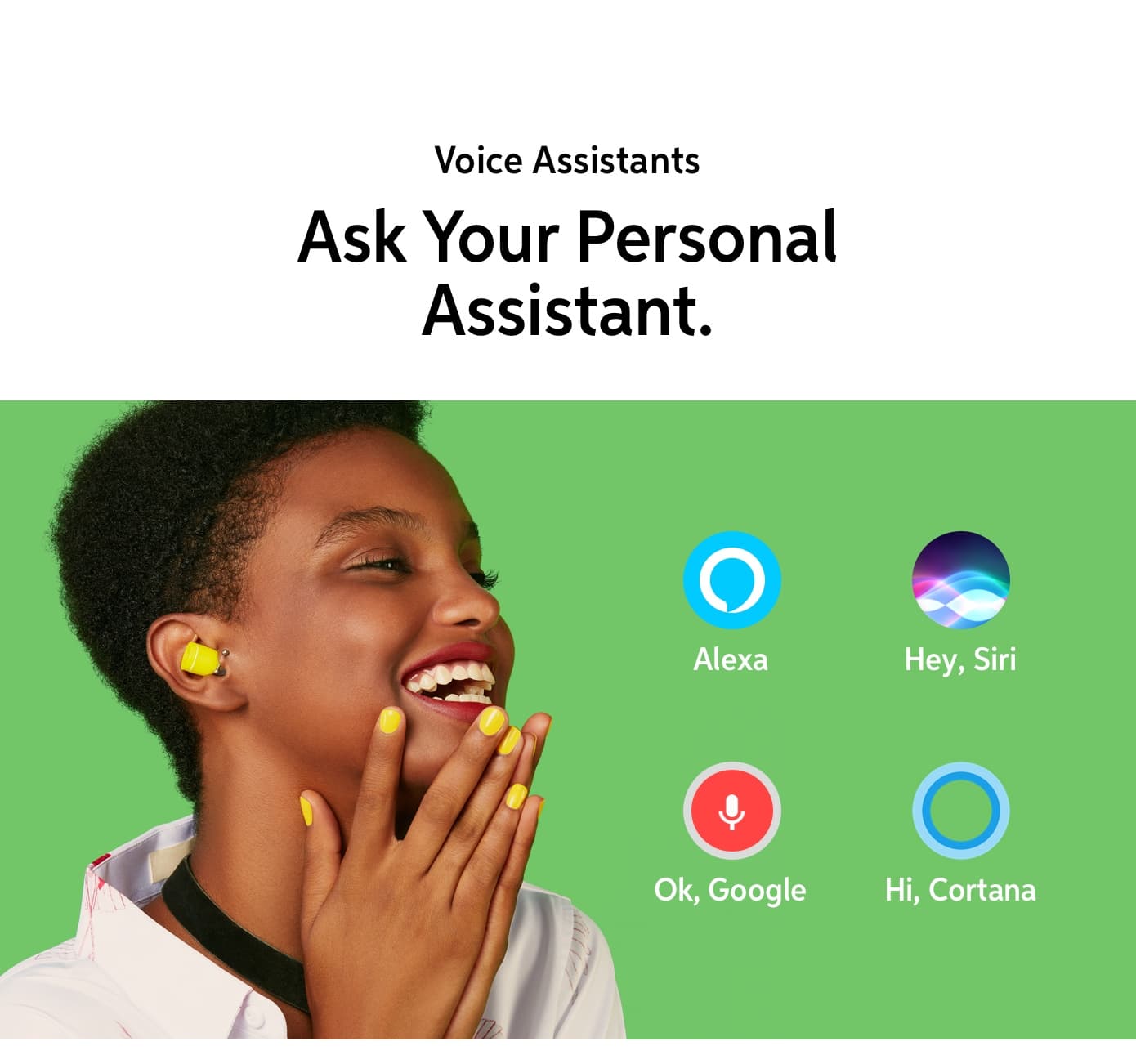 When connected to a smartphone, you can press your left headphone to talk to your voice assistant, even if your phone is tucked away in your pocket.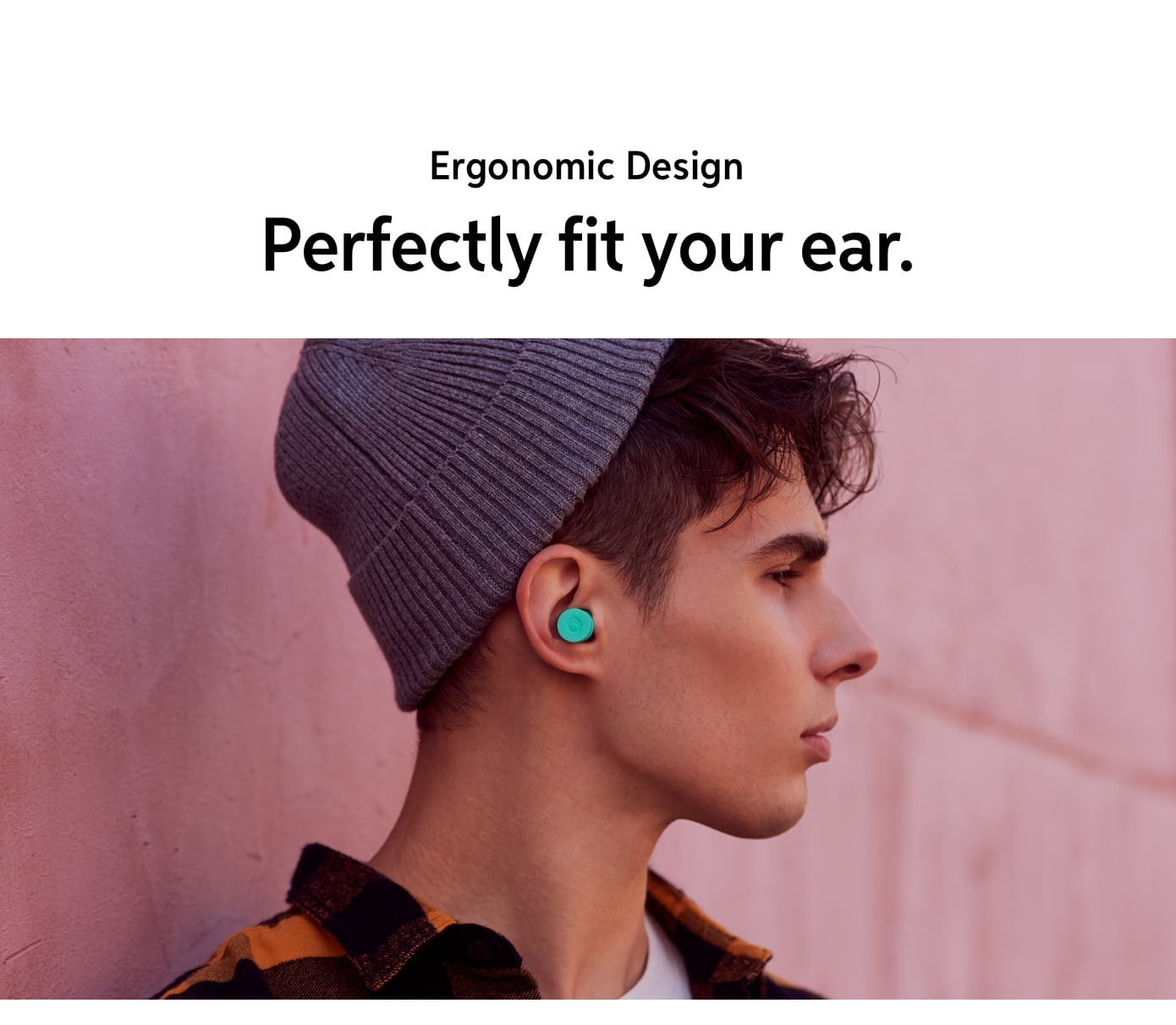 Air (NANO) utilizes a classic bullet design, which offers a snug fit for all types of ears. To ensure a comfortable fit, we've studied hundreds of people's ears to determine the perfect tilt, angle, and fit for Air (NANO)'s ear tips. We aimed for the most ideal ergonomic curvature of the earbud surface for maximum comfort.
Designed for improved in-ear stability and a long-term comfort, Air (NANO) is perfect for sports and fitness activities including running, jogging, and other rigorous activity. The sports-fit wingtips provide a strong in-ear hold so your headphones won't easily fall out. The soft material that makes up the wingtip is water-washable, anti-static and removable.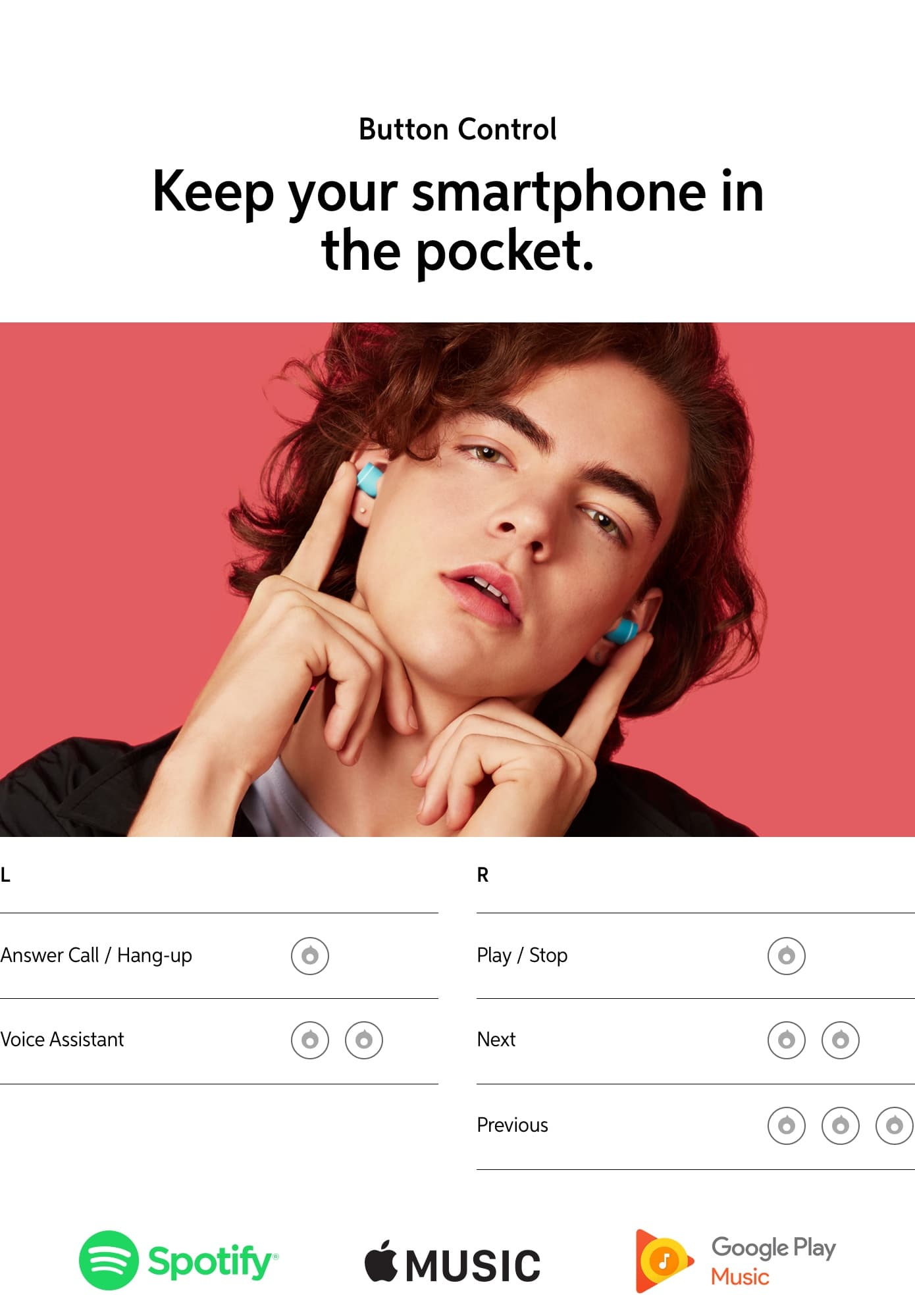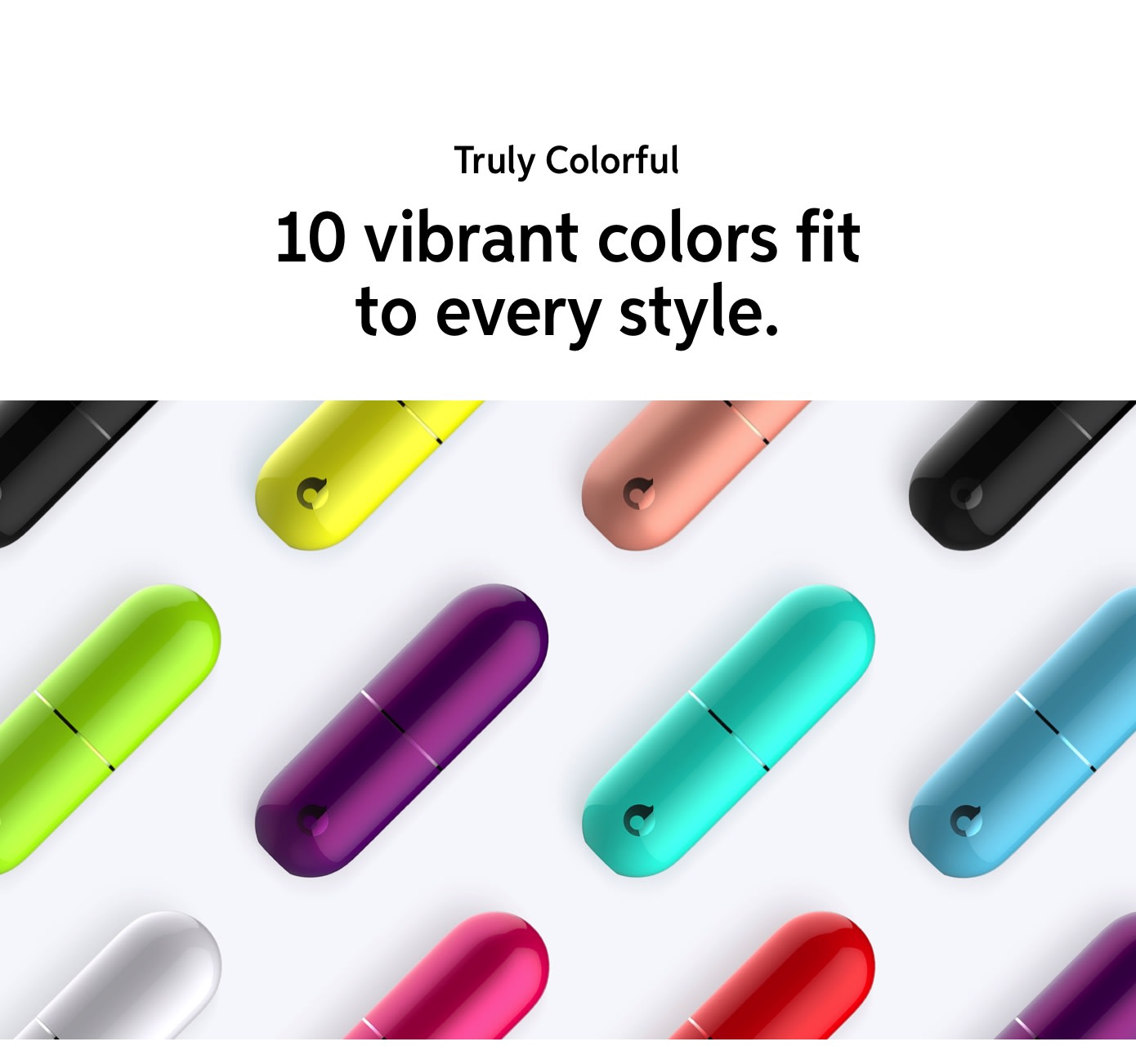 These new wireless headphones, Air (NANO), is available in ten trendsetting colors including Morandi Blue, Black, White, and Pink to name several. There are plenty of choices to match your mood.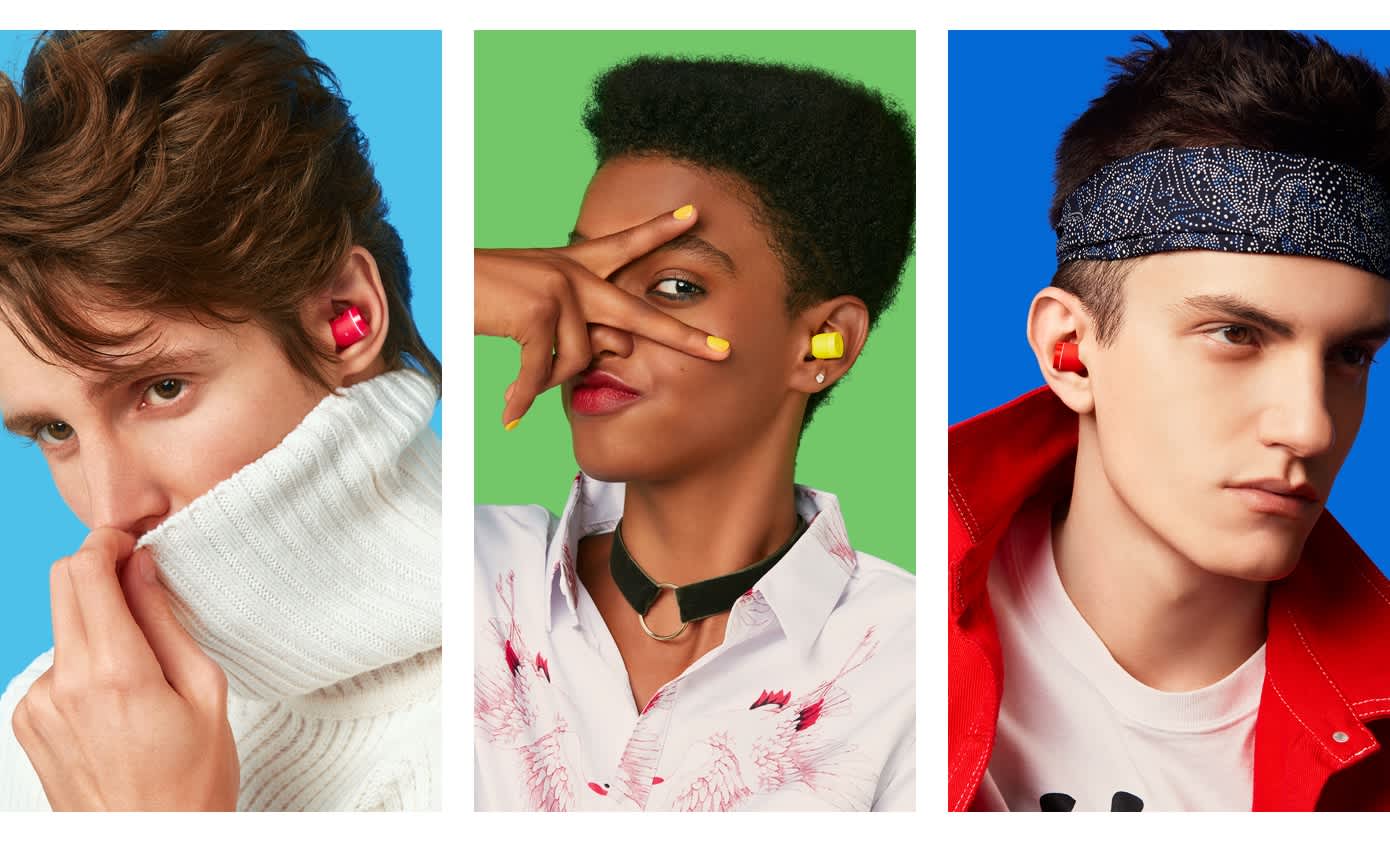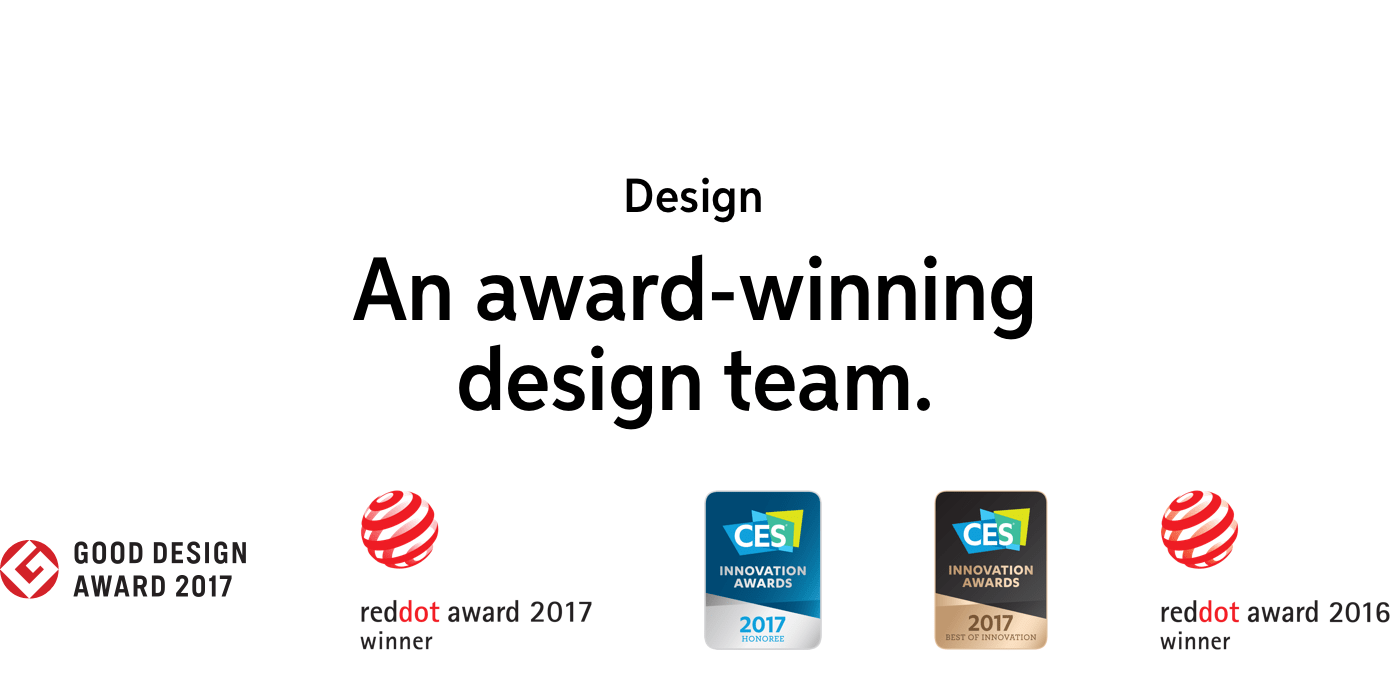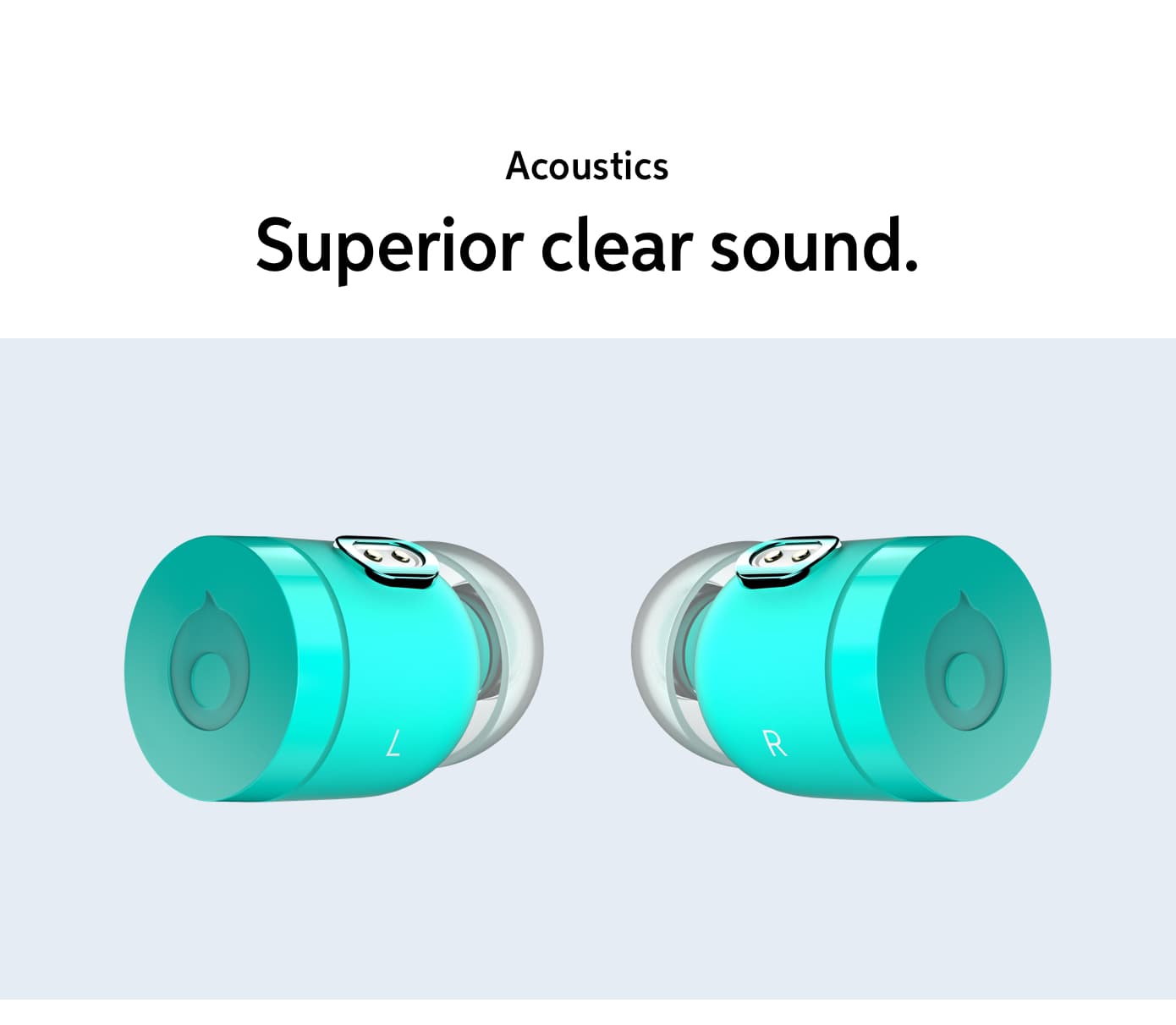 Embedded with the most cutting-edge technology, Air (NANO) never stops pushing the boundary of innovation to provide our customers with a best-in-class music listening experience.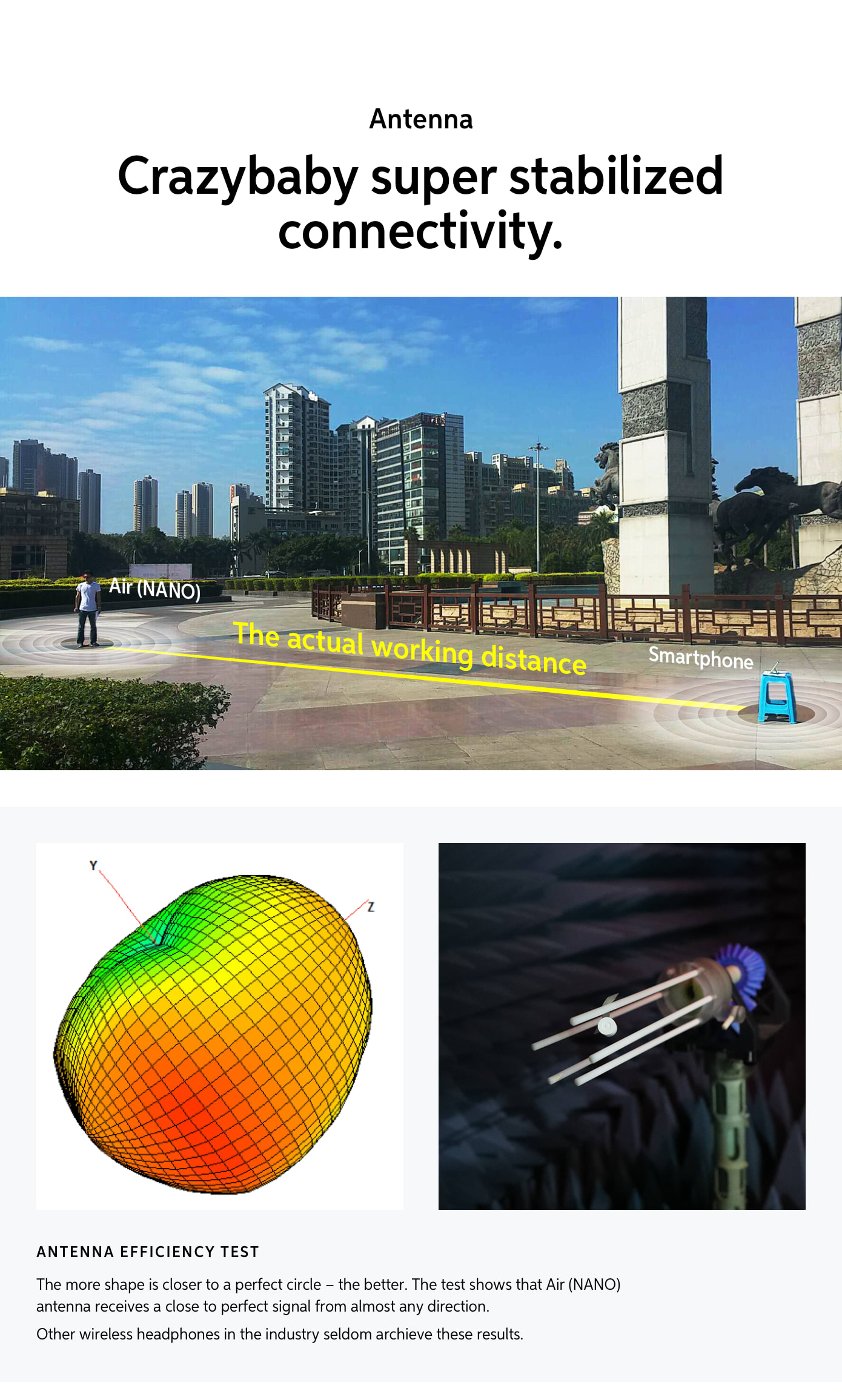 Unlike other wireless headphones on the market, Air (NANO) uses an advanced PIFA (Planar Inverted F-shaped Antenna)  (the same type used in an iPhone). This type of antenna offers increased bandwidth and an enhanced signal reception that results in a stable connection.
Air (NANO) was designed with this high-tech offering in mind from the onset, using a properly tuned antenna for a significantly improved, anti-interference connection. After putting the true wireless headphones through a rigorous set of simulation tests, Air (NANO)'s connection was consistently rated as among of the best in its industry.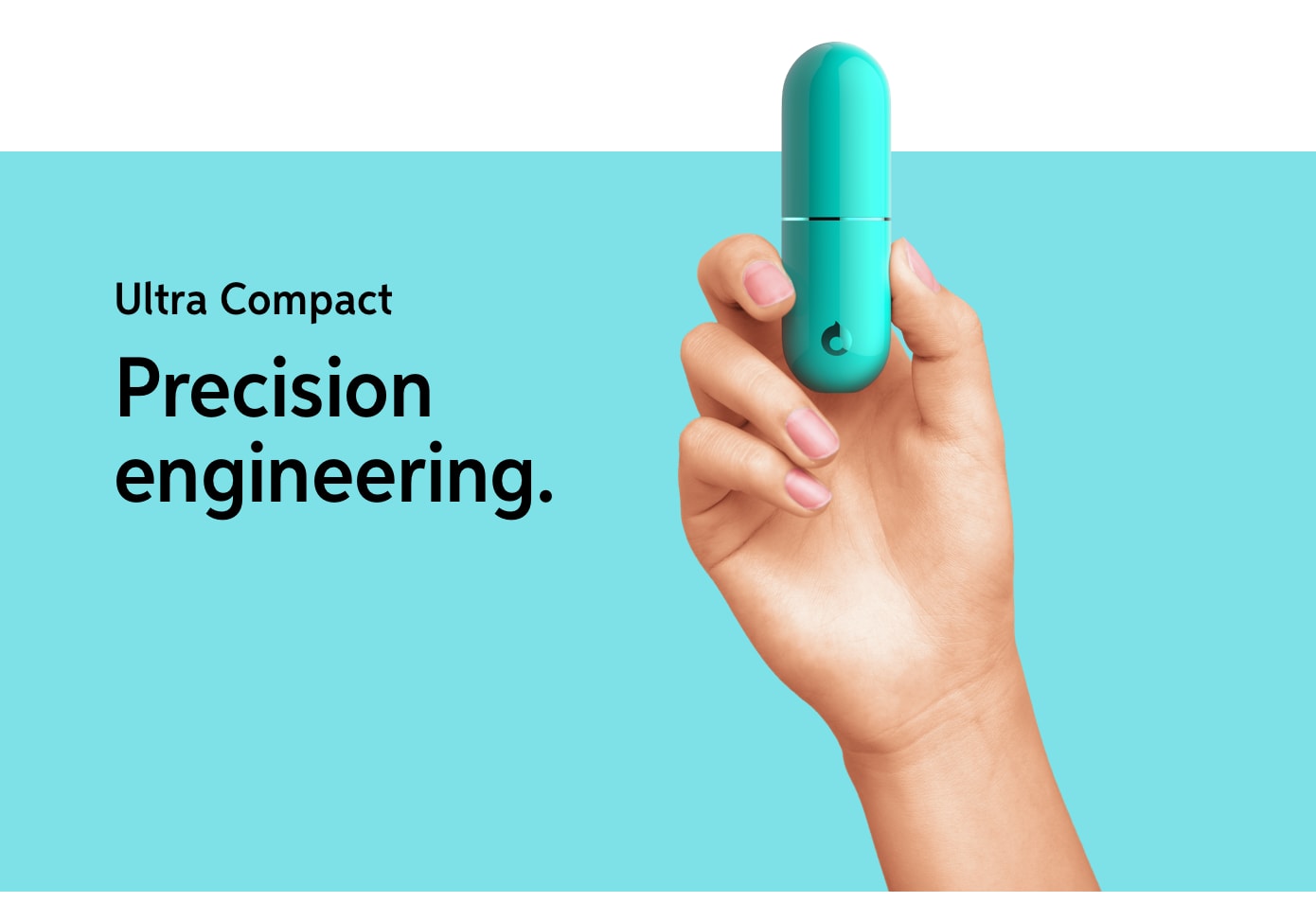 Precision engineering allows for an ultra-compact design, through the extreme optimization of space and parts allocation. Truly wireless stereo headphones have been reinvented by our award-winning team of audio experts to liven up your wireless music experience at home or on-the-go.

The shell of the Air (NANO) Capsule is from Saudi Arabia's national alloy plastic, which is widely applied in high-end electronics and medical devices. The logo on the shell's surface is embossed by a plastic bronzing process, that's smooth to the touch and sports a bright, yet elegant metallic sheen.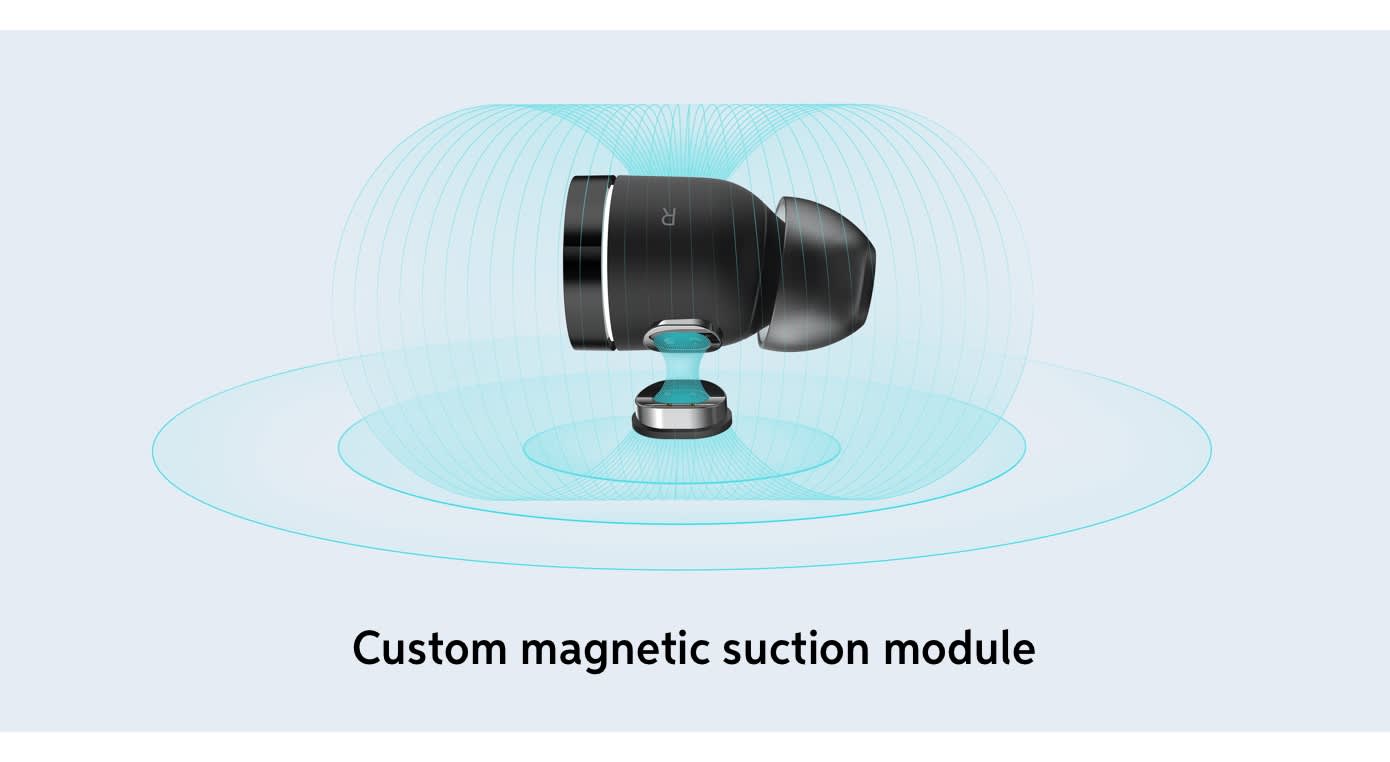 The Air (NANO) Capsule continues to adopt the classic magnetic design pioneered by Air by crazybaby, however there are improvements. We have customized the magnetic module on the Capsule to make it more compact and provide a tighter fit for the headphones that lets it sit snugly within the Capsule without the risk of it falling out.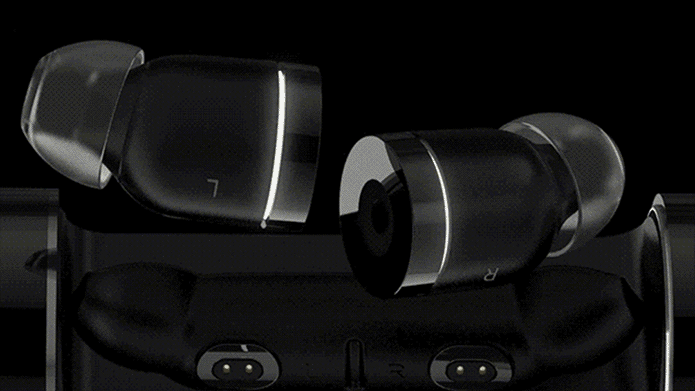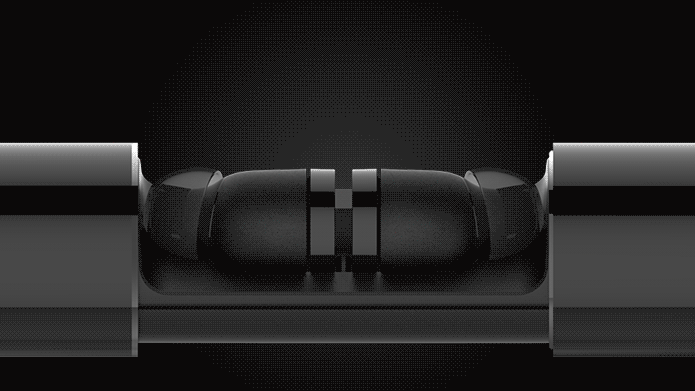 Thanks to Super Fuel Technology, a 5 minute charge provides 1.5 hours of music playback. You can enjoy up to 12 hours of portable power provided by the charging capsule, empowering you to enjoy your true wireless audio experience longer and with a peace of mind.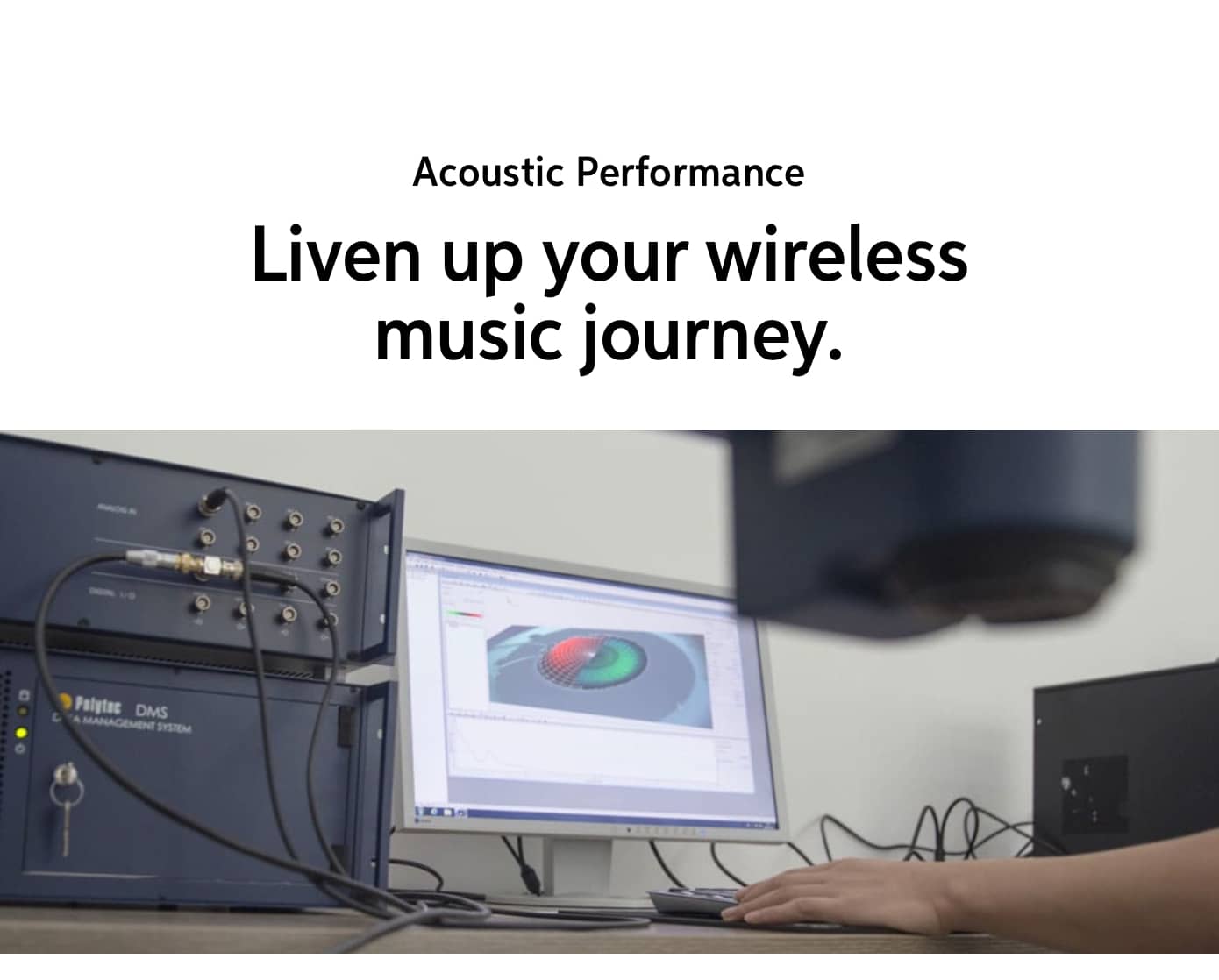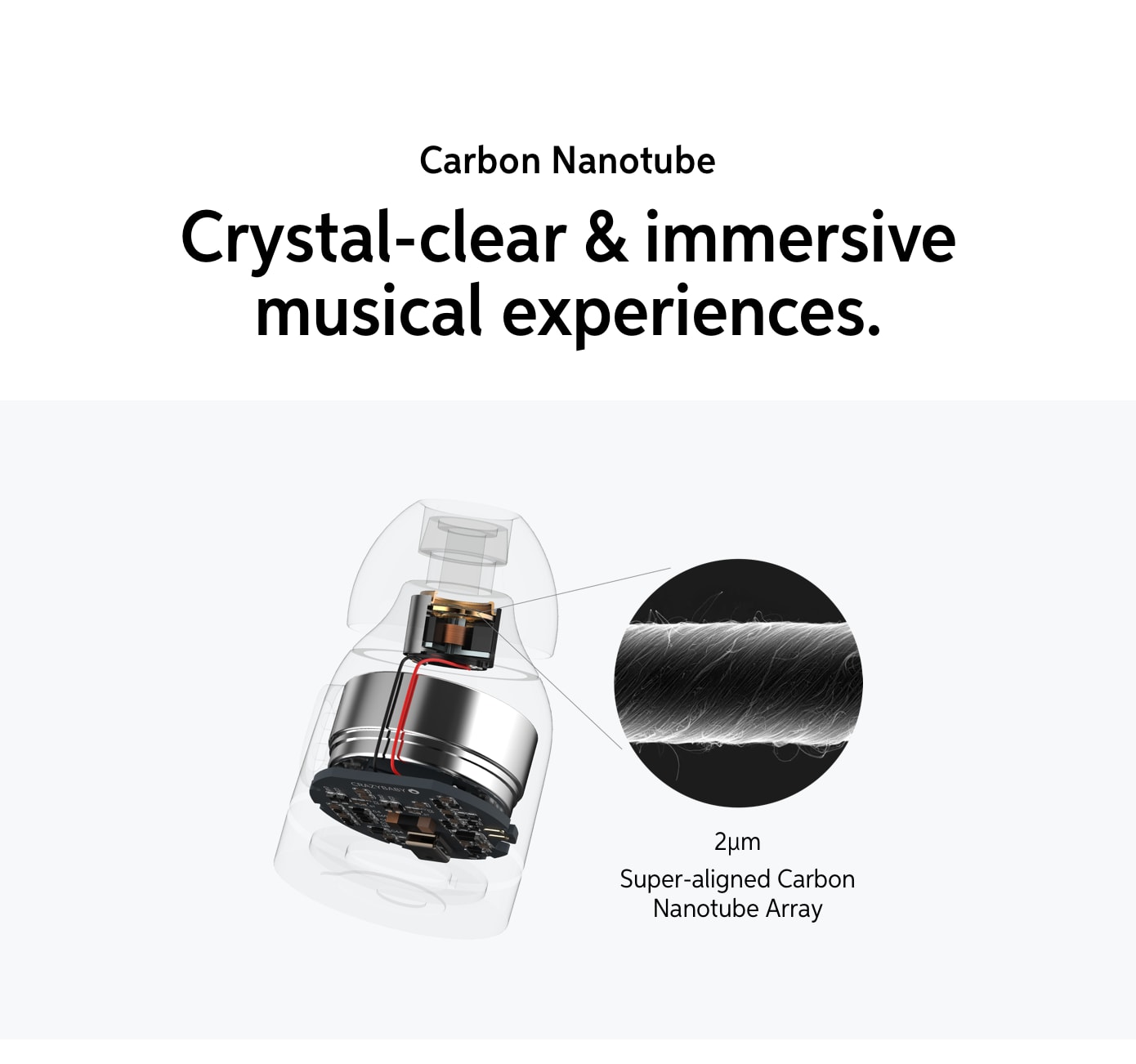 A headphone's diaphragm at its essence, is correlated with sound quality. In the same vein of Air by crazybaby, Air (NANO) also uses the industry's leading 998 custom-made Carbon Nanotube Diaphragms, enabling crystal-clear acoustics that deliver an immersive music listening experience.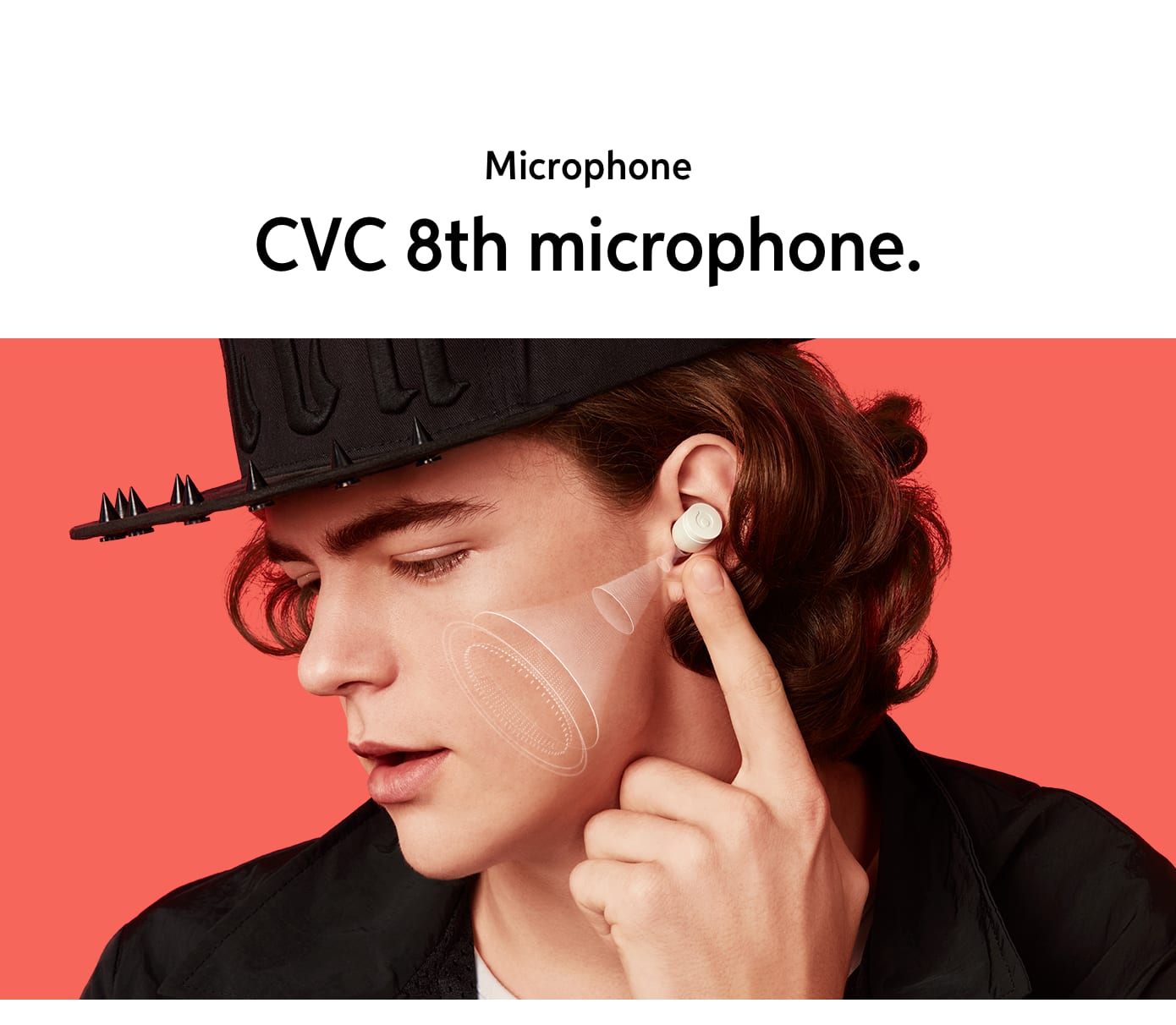 CVC 8th Generation Noise Isolation Technology, combined with Air(NANO)'s double digital silicon microphone work cohesively together to optimize your call and sound quality by drowning out background noise.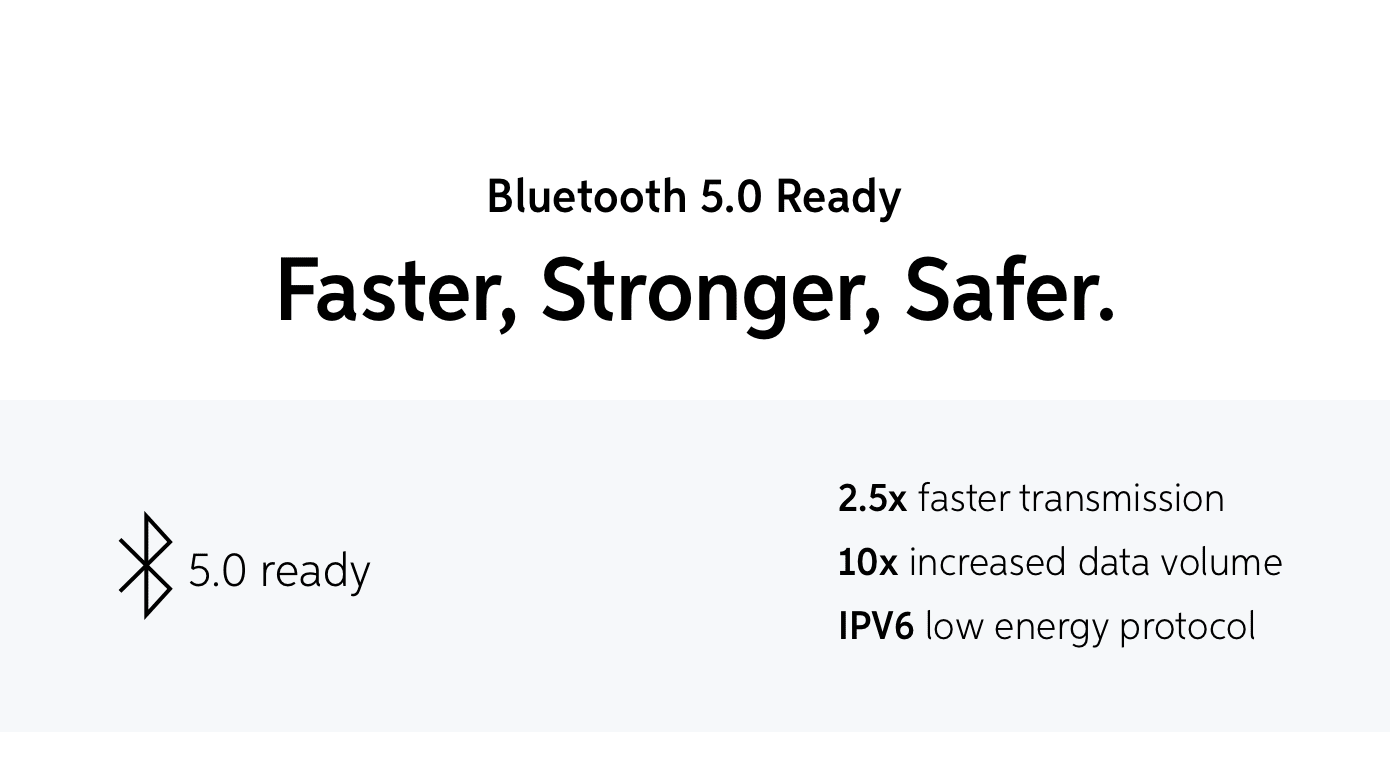 With Air (NANO) already Bluetooth 5.0 ready (the newest in bluetooth technology), you're ensured crystal-clear audio all the while Air (NANO) is paired with your device.
Compared to its predecessor, this new Bluetooth protocol increases data transmission speeds by 2.5x, data volume by 10x, and for the first time ever, connects over IPV6 to decrease energy consumption and provide you with a safer way to access the internet for those of you concerned about your privacy.

Feature rich iOS and Android compatible apps – ideally suited for music – allow you to control your music, monitor your headphone's Bluetooth connection and manage your music experience any way you'd like.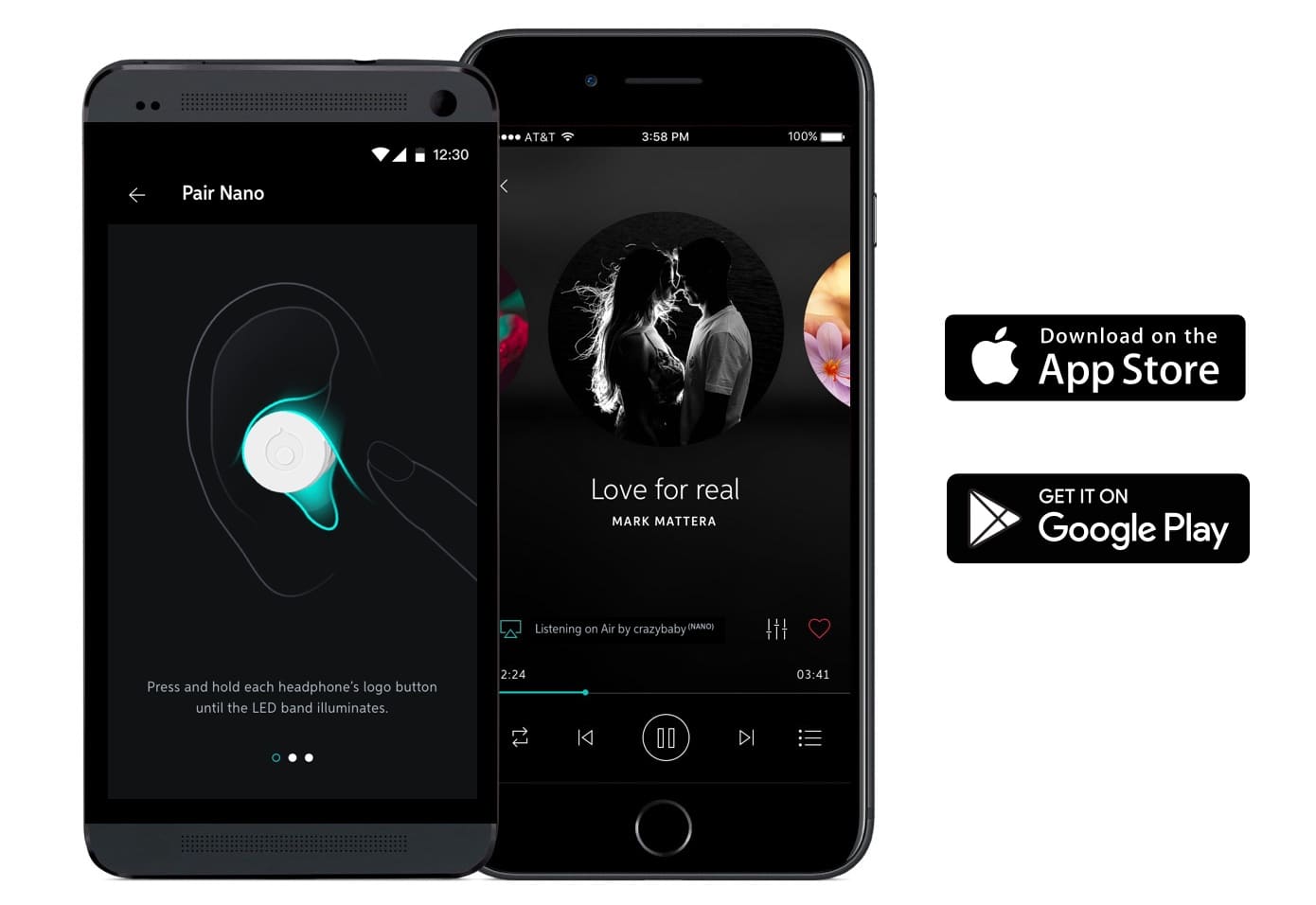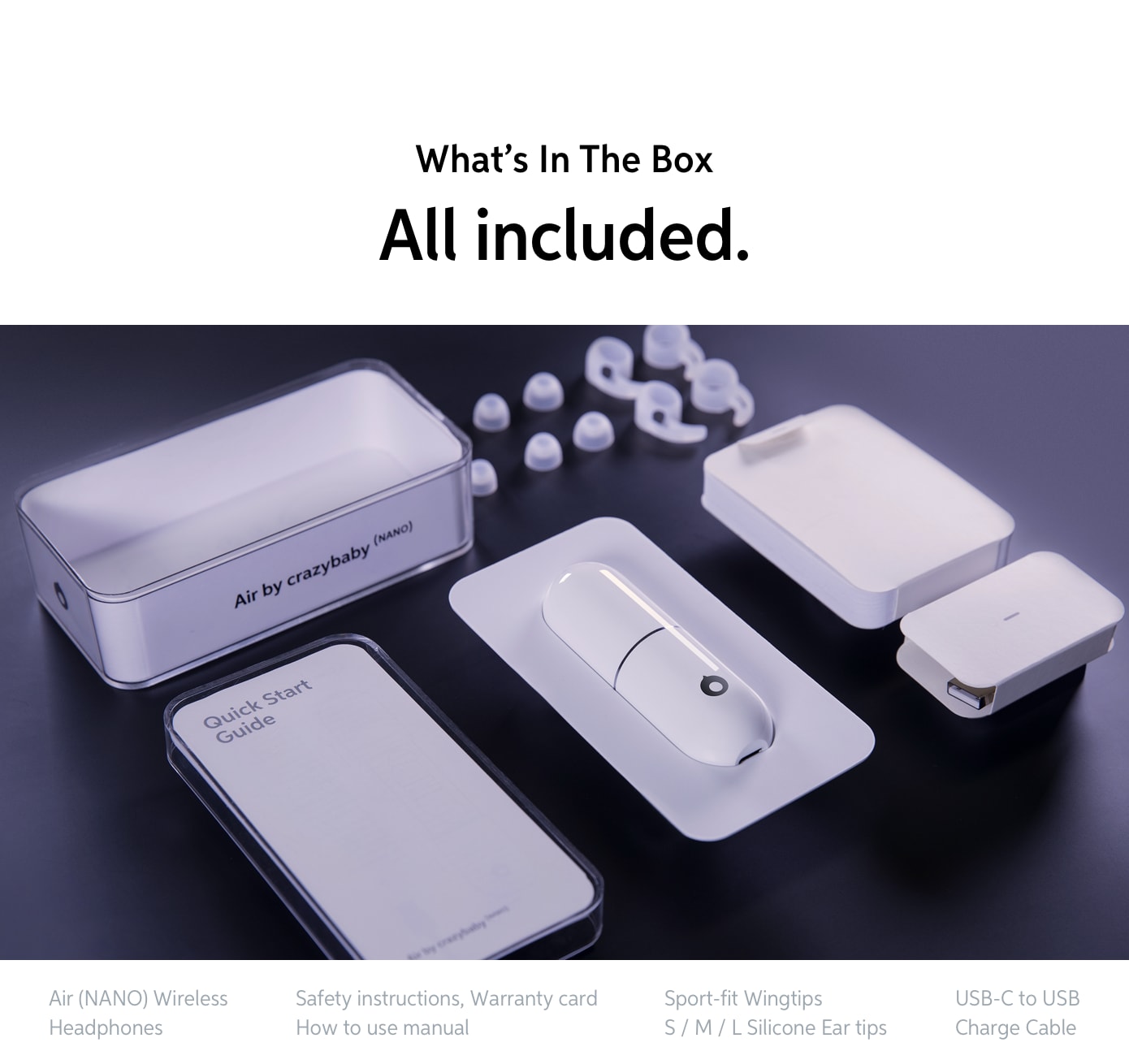 In the box: Air wireless headphones, Eartips with four size options, Sport-fit wingtips, Charging capsule, USB-C to USB charging cable.

10 vibrant colors, fashionable design, intuitive controls, ultra-compact and easy-to-carry, all combined with cutting-edge technology,  carries you into the future of acoustics..
Air (NANO) is designed for the most unique you.
It's the most ideal musical badge on the market to reflect your unique individuality and to express your personal taste. Meanwhile, it comes at a competitive price point that won't break the bank. Air by crazybaby (NANO) is created with a mind of adding a dash of flair to your music listening experience, and making it that much more enjoyable.



Reward Tiers
Early Bird
$89 – ONE Air by crazybaby ⁽ᴺᴬᴺᴼ⁾ in any of the ten colors ($129 value)
Early Bird Combo 
$149 – TWO Air by crazybaby ⁽ᴺᴬᴺᴼ⁾ in any of the ten colors ($258 value)

You will receive an email for color selection within 24 hours. Please follow the instructions to choose your favorite color. If you have any questions, please contact us:service@crazybaby.com;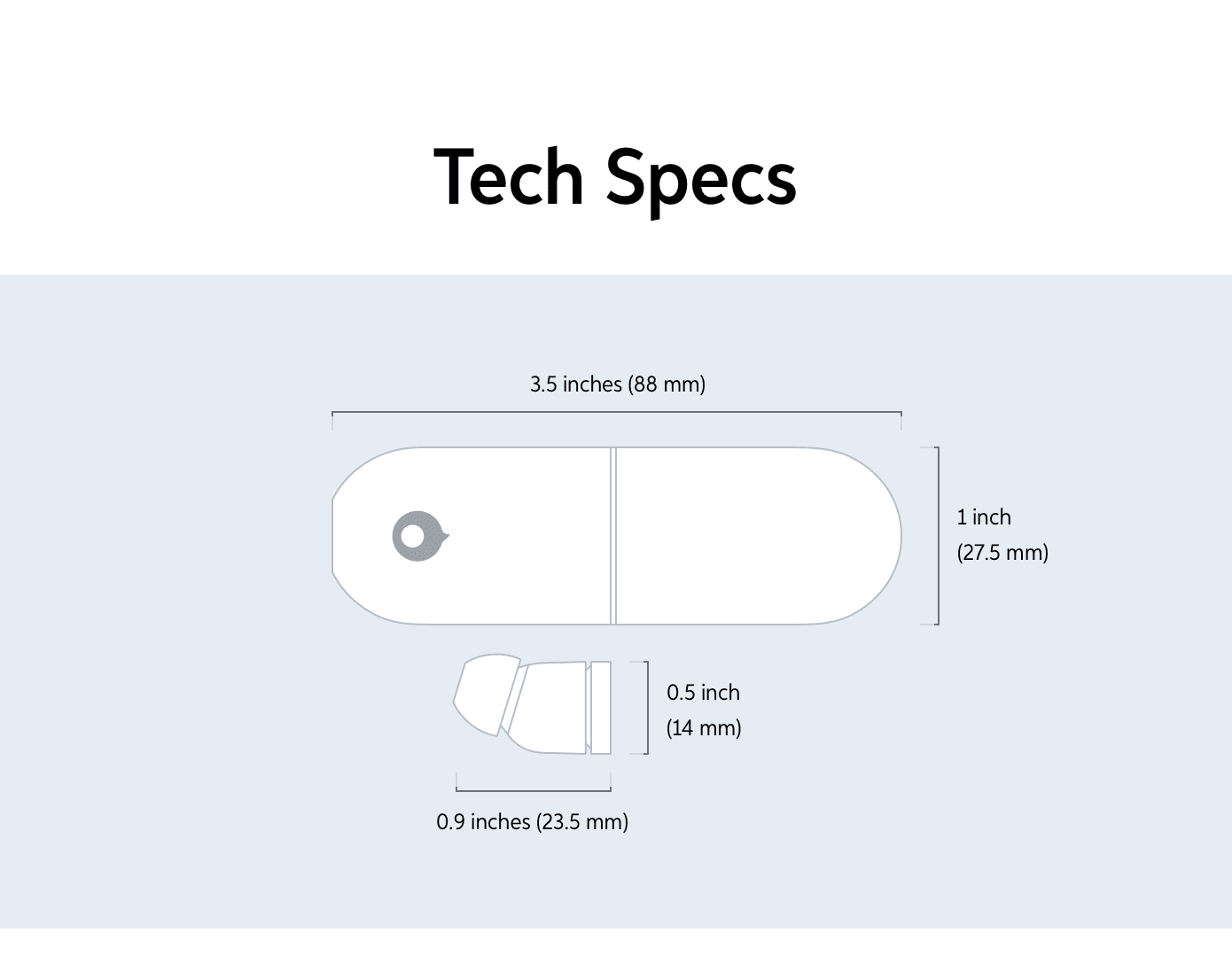 General
High-Fidelity Sound
Passive Noise Isolation
True Wireless Stereo Bluetooth
Splash Proof
Available Colors ( up to 10 )
Black / White / Red / Purple / Pink / Matte Gold / Austin Yellow / Morandi Blue / Atlantis Green / Volt Green
Sound
Driver Diaphragm: 998 Carbon Nanotube
Driver Unit: 0.22" (5.5 mm) Custom-made Hi-Fidelity Micro Drivers
Acoustic Architecture: Closed
Magnet Type: Neodymium
Frequency Response: 8Hz to 24kHz – Impedance: 16 Ohms
Sensitivity: 98dB SPL/1mW
Audio
AAC, mSBC, SBC, and CVSD audio codec
Battery
Air (NANO) with Charging Capsule: 12+ hours of listening time, up to 8 hours of talk time
Air (NANO) single charge: Up to 3 hours of listening time, or up to 2 hours of talk time
Fast Fuel Technology: 5 minutes of charging results in 1.5 hours of listening time